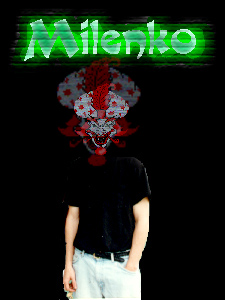 Oh yeah, the response has been all good. So me, Froggy, and Sunshine will be taking more pix on Sunday, and posting them next week. And oh yeah, these pix's are gonna be killa!!!
CHECK OUT THESE WICKED LINKS:
**
Frogman's Swampland!
R.K.P. Official Site
---
Thoughts of a demeted clown:
i wonder why it is when i bust yer nugget against the pavement, it bounces. i wonder why that is? could it be the fluids the surround your brain helps the shock absorb, thus creating a after shock with mild force?
NAH FXCK THAT THO!
YO I'MMA JUGGALO!
MORE THOUGHTS
i can't understand why more people can't be themselves on the internet. people who are not honest with themselves and others are people who are afraid of what they have become. be real, be true. as for the chat room fighting, this is a form of hiding behind your screen, not cool. dont start fights with people, not only are you degrading yerself, but yer fxckin up the chat. cool, if ya gonna do that shxt, take it to the streets. unless yer down with R.K.P., then have some fun, and dont hurt anyone....PEACE JUGGALOZ!!!